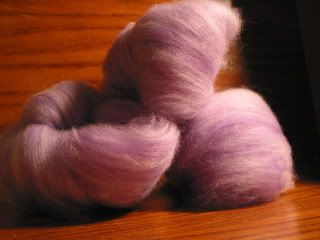 All I can say is, you shoulda been here! You'd need Smellivision to partake of the heavenly scents that are wafting through my living room right now! I received a lovely package from Amy of
"Naturally Amy"
- maker of fine handcrafted soaps, incense, candles, lip balms, scrubs... (Fiber? Yeah, she's got that too in her other shop). She admired my fiber batts so I offered to make some for her. After she told me about her soaps we decided to get a little swapish and send each other a care pacakage.
I sent Amy a box of little lavender batts. I dyed some merino roving. The white roving was speckled with purple dye and then carded to create a softer color. Then I blended in some violet kid mohair for more depth of color and softness. No big deal right? I little dyeing and carding, which I love and would do anyway...
I expected a few nice bars of soap in return... then this came: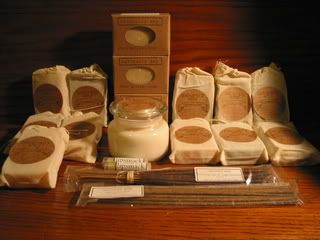 Motherlode! This must be the most lopsided swap ever! I got fabulous handmade soaps: Cedarwood & Lavender, Goat Milk Oats & Honey, Spearmint, Seaside, Limon Citrus, Tea Tree & Bergamot, Mexican Lime & Black Pepper, Lavender & Anise, Citrus & Blue Cornmeal, Patchouli & Midseason Orange, Goat Milk.
Incense: Lemongrass & Sage, Apple Jack & Peel
Lipsmack: Choconut, Bubblegum and, a hand poured soy candle: Cedarwood & Vanilla
Please do visit Amy's site - her products are wonderful and are made with love and a commitment healthy & happy skin. If you'd like to know more about the benefits of handmade soap over store bought, Amy's got a great post on her blog. I learned enough to never go back to store bought again. There's a vicious game being played by soap manufacturers: removing oils from soap so they are more drying to the skin just so they can sell you lotions that add the moisture back. Read more.