Fiber, fiber, fiber! It's becoming an addiction. No matter how much I have I still find myself eyeing more. From rovings and hand dyed and painted to raw fleece (wensleydale, shetland and alpaca so far), I just can't get enough!
Here's my latest purchase, two pounds of superfine Alpaca. (maybe cria Alpaca???) Just purchased this from a woman on Ravelry. Its lovely!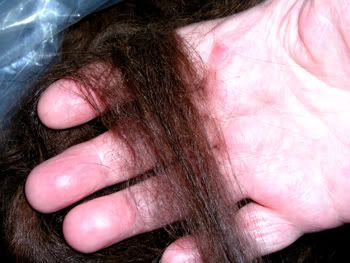 To top things off, I've also got a 1 pound 4 oz beautiful moorit Shetland fleece soaking in my bathtub right now (also courtesy of that evil Ravelry). Oh, pray for my strength come spring which is typically shearing season!