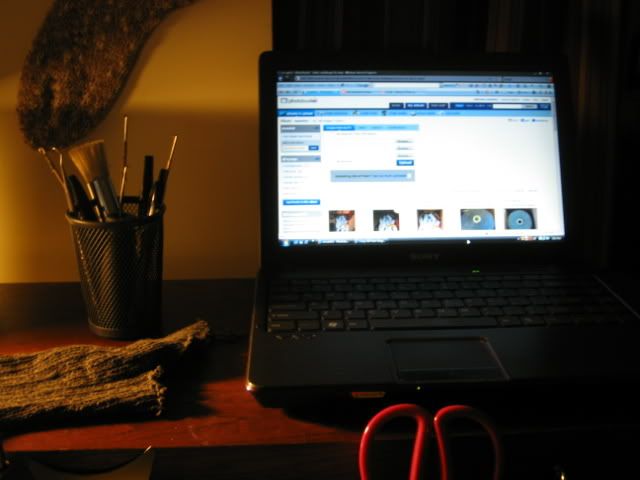 Its spring! Time for a fresh start so I decided to make one by cleaning up. Look at my lovely desk, so neat and tidy. A computer, a holder for pens and other items. But wait, what's that knitting doing there? And, aren't those picks and a brush in the holder and a pair of scissors in front of the laptop - hey, what gives?
April Fools! Its not really my desk. Its my CSM knitting station! Ha ha! It may seem a bit odd at first and completely unusual, but it works damknit and I like it. So, I cranked open my workbench an laid my Ikea mini side table on top of it. I decorated the sides of the table with a few cup hooks and hung weights and tools. I even managed to get all my stray yarn cones and balls off the floor and packed neatly away back into their plastic totes. My workstation now reminiscent of something out of a
functional art exhibit
. This might be a good time to start working on my own portfolio. Ah, but who can concentrate on sculpture when there's so much yarn to be knit?