Maybe its the thrill of not knowing exactly when it'll arrive... Or perhaps, the joy of ripping open a package? I tend to think its the adrenaline rush of forgetting what I've ordered and being genuinely surprised by its arrival (I'm sick and I know it). But, whatever the IT is, I love it! Today's deliver is two-fold: one at the office, the other at home.
Delivery #1

At the office - a 2.7 pound cone of blue/grey wool from
Webs' cone sale
! I was browsing their site earlier this week on the sofa sitting next to my son when I
innocently
mentioned to him just how much I'd like to try that yarn out.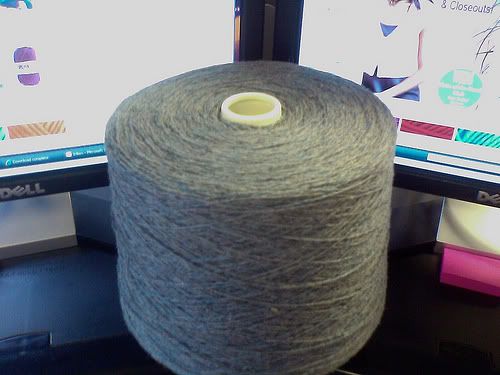 Being the well-raised gentleman that he is, he ordered a cone for me. I was so happy with this purchase I grabbed my credit card and headed back to Webs for more, um, about 7 more cones to be exact. I know what you're thinking - "this chick is crazy!" Well, as my daughter would say, "Chill-lax". Read on and you'll understand why. Their cone sale items are $5, $5.99, $10 and $15 cones. The cone listed here on my blog is a $15 cone. Shipping was just $5. Imagine all the socks I can make now! See? I told ya you'd understand.
Delivery #2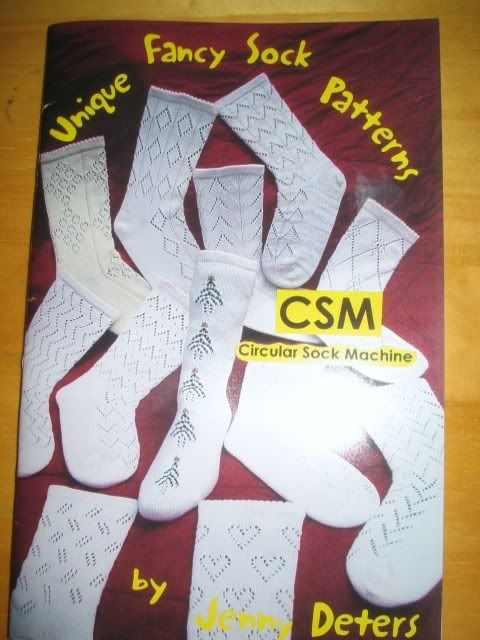 Now, with so much yarn on this single cone, plus the yarn on its way, AND not including the yarn already in my stash - I guess I need a few new ideas for making socks, right? Enter "Unique Fancy Sock Patterns" by Jenny Deter. I searched high and low online to find Jenny's contact info so I could order her CSM sock pattern book. To my knowledge, its the only one like it around today. Not only is it a great book with patterns ranging from easy to difficult, but the book is signed and includes a personal note from Jenny! What a nice touch.
If you own a CSM or are thinking about owning one, you need to get this book. It'll open up a whole new world of CSM sock making to you. I'll be practicing my patterns all weekend. I can't wait to post pictures! CFN (Ciao For Now)